This month's kit at
SCRaPDANGo
was just perfect for the pics from our ocean adventure! I need to do a bit of Photoshopping to a few to get a couple more layouts finished, but I'm totally excited about what I have so far!
Here's this month's beautiful July Sugar Kit ~ Featuring Fancy Pants Rusted Sun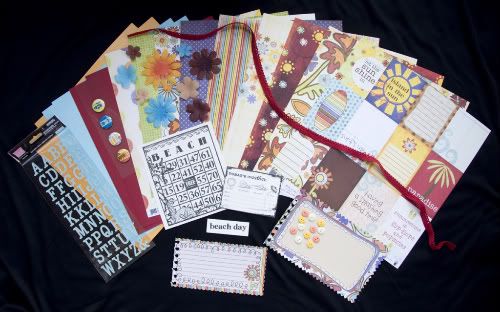 Tons of fun with this kit... :)
I used the
Sketchy Thursdays
7.8 sketch for this one (dangit that I couldn't get in on the prize this week!)
I've had this KaiserCraft clock around since last summer. I was so proud of myself for figuring the whole clock workings out. Only problem is that I ended up with a bad clock! Off to Michael's later this week to replace the mechanism, I guess!
Hooray! My proud Goondocks pics! I'm still on the hunt for that stinkin' movie though...
And here are a couple of cards. The first is another rendition of the most recent card sketch from
Sassy Lil' Sketches
. For the second, I actually designed the paper piecing from a pic on the patterned paper itself.
I still need to get a 2-pager done as well as the layout for the July sketch challenge for the 20th. That'll keep me busy for a bit along with a couple of other scrappy ventures I've got in the fire right now.
~Til next time <3